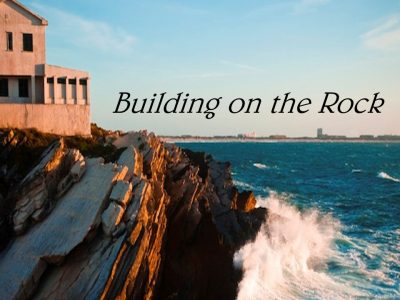 July 8, 2018
Jesus is the Rock! – Matthew 7:24-25 
24 Therefore whosoever heareth these sayings of mine, and doeth them, I will liken him unto a wise man, which built his house upon a rock. 25 And the rain descended, and the floods came, and the winds blew, and beat upon that house; and it fell not: for it was founded upon a rock.
Church built on the Rock! – Matthew 16:18KJV
18 And I say also unto thee, That thou art Peter, and upon this rock I will build my church; and the gates of hell shall not prevail against it.
The Church is Fun! – Acts 2:46-47
46 So continuing daily with one accord in the temple, and breaking bread from house to house, they ate their food with gladness and simplicity of heart, 47 praising God and having favor with all the people.
Hang Out Place! John 15:11
11 Jesus Said:  "These things I have spoken to you, that My joy may remain in you, and that your joy may be full.
Joy, Rejoice, 650 times – Job 8:21
21 He will yet fill your mouth with laughter and your lips with shouts of joy.
Isaiah 12:3 Therefore with joy you will draw water From the wells of salvation.
44 And all the believers met together in one place and shared everything they had. 45 They sold their property and possessions and shared the money with those in need.
Hunger to Hear from God! – Acts 2:41-42
41 Then those who gladly received his word were baptized; and that day about three thousand souls were added to prayers. 42 And they continued steadfastly in the apostles' doctrine and fellowship, in the breaking of bread, and in Prayers
Exciting Sense of Wonder! – Acts 2:43
43 And a sense of awe! Came upon every soul, and many wonders and signs were performed through the apostles.   GOD DID IT!
Unexplained blessing Happen!
Healings
Miracles
Finances
Relationships
Husbands and Wife's
Children
Jobs
Dreams can come true! – Romans 4:17-18
17 God, who gives life to the dead and calls those things which do not exist as though they did; 18 who, contrary to hope, in hope believed, so that he became the father of many nations,
Purpose in Life! – Acts 26:16
16 But rise, and stand upon thy feet: for I have appeared unto thee for this purpose , to make thee a minister and a witness both of these things which thou hast seen, and of those things in the which I will appear unto thee; KJV
Praise and Worship – 1 Corinthians 15:57
57 But thanks be to God, who gives us the victory through our Lord Jesus Christ.
God loves His Church! – Ephesians 5:25-28
25 Husbands, love your wives, just as Christ loved the church and gave himself up for her 26 to make her holy, cleansing her by the washing with water through the word, 27 and to present her to himself as a radiant church, without stain or wrinkle or any other blemish, but holy and blameless.
So do I! Let's have some Fun in the Son!