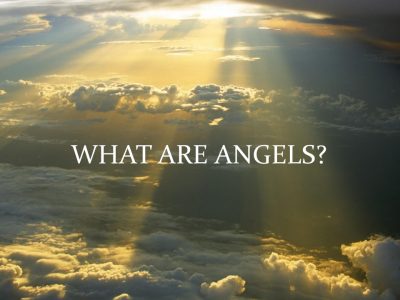 May 20, 2018
PART 1
DEAR DR. GRAHAM: My sister lost her small son a little over a year ago, and on the anniversary of his death, she put a poem in the paper to remember him. It said something about him being an angel now. Is that what happens to us when we die and go to Heaven, that we become angels? —Mrs. L.C.
Created Beings – Nehemiah 9:6 Thou, even thou, art LORD alone; thou hast made heaven, the heaven of heavens, with all their host, the earth, and all things that are therein, the seas, and all that is therein, and thou preservest them all; and the host of heaven worshippeth thee. KJV
Colossians 1:15-18 – 15 He is the image of the invisible God, the firstborn over all creation. 16 For by Him all things were created that are in heaven and that are on earth, visible and invisible, whether thrones or dominions or principalities or powers. All things were created through Him and for Him. 17 And He is before all things, and in Him all things consist. 18 And He is the head of the body, the church, who is the beginning, the firstborn from the dead, that in all things He may have the preeminence. NKJV
Angels are a Company, Not a Race
Angels Cannot Reproduce – Matthew 22:29-30: 29 Jesus answered and said unto them, Ye do err, not knowing the scriptures, nor the power of God. 30 For in the resurrection they neither marry, nor are given in marriage, but are as the angels of God in heaven. KJV
Like Stars in Heaven – Job 38:4-7, 4 Where wast thou when I laid the foundations of the earth? declare, if thou hast understanding. 5 Who hath laid the measures thereof, if thou knowest? or who hath stretched the line upon it? 6 Whereupon are the foundations thereof fastened? or who laid the corner stone thereof; 7 When the morning stars sang together, and all the sons of God shouted for joy? KJV
Angels Cannot Die –Luke 20:34-36, 34 And Jesus answering said unto them, The children of this world marry, and are given in marriage 35 But they which shall be accounted worthy to obtain that world, and the resurrection from the dead, neither marry, nor are given in marriage 36 Neither can they die any more: for they are equal unto the angels; and are the children of God, being the children of the resurrection. KJV
Angels are Spiritual Beings –Luke 24:37-39, 37 But they were terrified and affrighted, and supposed that they had seen a spirit. 38 And he said unto them, Why are ye troubled? and why do thoughts arise in your hearts? 39 Behold my hands and my feet, that it is I myself: handle me, and see; for a spirit hath not flesh and bones, as ye see me have. KJV
Two are Different Bodies –1 Corinthians 15:40-44, 40 There are heavenly bodies (sun, moon, and stars) and there are earthly bodies (men, animals, and plants), but the beauty and glory of the heavenly bodies is of one kind, while the beauty and glory of earthly bodies is a different kind. 41 The sun is glorious in one way, the moon is glorious in another way, and the stars are glorious in their own [distinctive] way; for one star differs from and surpasses another in its beauty and brilliance. 42 So it is with the resurrection of the dead. [The body] that is sown is perishable and decays, but [the body] that is resurrected is imperishable (immune to decay, immortal). [Dan 12:3.] 43 It is sown in dishonor and humiliation; it is raised in honor and glory. It is sown in infirmity and weakness; it is resurrected in strength and endued with power. 44 It is sown a natural (physical) body; it is raised a supernatural (a spiritual) body. [As surely as] there is a physical body, there is also a spiritual body. AMP
We Do Not Become Angels –Psalms 8:5-6, 5 For thou hast made him a little lower than the angels, and hast crowned him with glory and honour. 6 Thou madest him to have dominion over the works of thy hands; thou hast put all things under his feet: KJV
Jesus Made a Way – Hebrews 2:9, 9 But we see Jesus, who was made a little lower than the angels, now crowned with glory and honor because he suffered death, so that by the grace of God he might taste death for everyone. NIV
Angels Job – Hebrews 1:14, 14 Are they not all ministering spirits sent forth to minister for those who will inherit salvation? NKJV
Hagar Direction – Genesis 16:7-10, 7 And the angel of the LORD found her by a fountain of water in the wilderness, by the fountain in the way to Shur. 8 And he said, Hagar, Sarai's maid, whence camest thou? and whither wilt thou go? And she said, I flee from the face of my mistress Sarai. 9 And the angel of the LORD said unto her, Return to thy mistress, and submit thyself under her hands. 10 And the angel of the LORD said unto her, I will multiply thy seed exceedingly, that it shall not be numbered for multitude. KJV
Lot Protection – Gen 19:15-17- 15 And when the morning arose, then the angels hastened Lot, saying, Arise, take thy wife, and thy two daughters, which are here; lest thou be consumed in the iniquity of the city. 16 And while he lingered, the men laid hold upon his hand, and upon the hand of his wife, and upon the hand of his two daughters; the LORD being merciful unto him: and they brought him forth, and set him without the city. 17 And it came to pass, when they had brought them forth abroad, that he said, Escape for thy life; look not behind thee, neither stay thou in all the plain; escape to the mountain, lest thou be consumed. KJV
Abraham Blessing – Genesis 22:11-12, 17-18- 11 And the angel of the LORD called unto him out of heaven, and said, Abraham, Abraham: and he said, Here am I. 12 And he said, Lay not thine hand upon the lad, neither do thou any thing unto him: for now I know that thou fearest God, seeing thou hast not withheld thy son, thine only son from me. 17 That in blessing I will bless thee, and in multiplying I will multiply thy seed as the stars of the heaven, and as the sand which is upon the sea shore; and thy seed shall possess the gate of his enemies; 18 And in thy seed shall all the nations of the earth be blessed; because thou hast obeyed my voice.
Philip Ministry – Acts 8:26-27- 26 And the angel of the Lord spake unto Philip, saying, Arise, and go toward the south unto the way that goeth down from Jerusalem unto Gaza, which is desert. 27 And he arose and went: and, behold, a man of Ethiopia, an eunuch of great authority under Candace queen of the Ethiopians, who had the charge of all her treasure, and had come to Jerusalem for to worship, KJV
Peter Protection – Acts 12:7, 7 And, behold, the angel of the Lord came upon him, and a light shined in the prison: and he smote Peter on the side, and raised him up, saying, Arise up quickly. And his chains fell off from his hands. KJV
Direction for Spiritual Blessing/Peter, Cornelius – Acts 10:22, 22 And they said, Cornelius the centurion, a just man, and one that feareth God, and of good report among all the nation of the Jews, was warned from God by an holy angel to send for thee into his house, and to hear words of thee. KJV
They are Here – Hebrews 13:1-2, 2 Do not forget to entertain strangers, for by so doing some people have entertained angels without knowing it. NIV
Organized Order – Ephesians 1:18-22, 18 I pray also that the eyes of your heart may be enlightened in order that you may know the hope to which he has called you, the riches of his glorious inheritance in the saints, 19 and his incomparably great power for us who believe. That power is like the working of his mighty strength, 20 which he exerted in Christ when he raised him from the dead and seated him at his right hand in the heavenly realms, 21 far above all rule and authority, power and dominion, and every title that can be given, not only in the present age but also in the one to come. 22 And God placed all things under his feet and appointed him to be head over everything for the church,
Book of Revelations Chapter 1:1