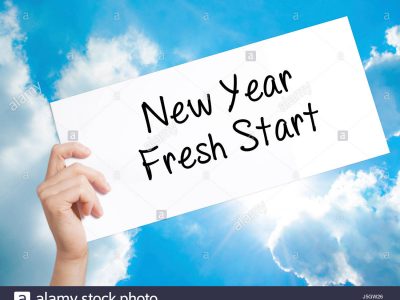 Are You Ready For A Fresh START
January 12, 2020
       Are You Ready for a Fresh START
How many of you here this morning, "would like to have a fresh start in your Christian life? Many of us here this morning have made many mistakes in our lives as Christians. We have experienced many setbacks and failures throughout our lives. Sometimes we allow these mistakes, these setbacks and failures to enslave us to the point that we never enjoy the full Christian life that God has given us to enjoy.
In John 10:10 Jesus said, I am come that you might have life and have it more abundantly." Then he goes on to tell us that there is an adversary, called the Devil that seeks to still, kill and destroy that life. The Devil will remind us of our past in order to keep us from enjoying the life that God gave us to live. The Devil does not want you to have a fresh start in life.
Isaiah 43:18- Let go of the Past
18 "Do not remember the former things,
Nor consider the things of old.
NKJV
I want to share with you a formula for starting over. S.T.A.R.T.
S – Stop making excuses.
If I want a fresh start in life, I have to stop making excuses for my failures. I've got to stop blaming other people. I've got to stop seeing myself as the victim of my circumstances.
Other people can hurt us, other people can harm us, and other people can scar us. But the only person that can ruin your life is you. Nobody can ruin your life without your permission. You have a choice and that is you can choose how you're going to respond to those hurts. The Bible says that the starting point is to just be honest and accept responsibility for my part in the problem.
Proverbs 28:13 "A man who refuses to admit his mistakes can never be successful. But if he confess and forsakes them he gets another chance."
He gets a fresh start. He says the starting point to starting over is to be honest and face up to the problems, that most of the problems in my life, most of the failures, are my fault.
It is hard to get people to admit when they are wrong. People do not like to admit, " I mad a mistake, and I blew it. " God says, " That if we admit the mistake, if we admit our failures, and if we admit our sin, then we get another chance in life.
· The number one reason we fail in life is we don't prepare ourselves for the problems that we will face in life.
The Bible say's (Proverbs 20:7) "A sensible man watches for problems and prepares to meet them but the fool never looks ahead and suffers the consequences."
Was it raining when Noah started building the ark? No. He had to prepare for the coming flood. In fact the rain didn't come for 120 years. But that's how long it took him to get the thing built.
So "S" in START stands for Stop making excuses.
T – Take an Inventory of My Life
I need to take an inventory of my life. That means I need to evaluate all my experiences.
Learn from your mistakes. Failure can be your friend or your foe. You determine if failure will be your friend or foe by the way you react to it. You can choose to learn from it or choose to repeat it. If you learn from it then it can be your friend. However, if you don't learn from it is your foe.
A – Act in faith
This is the third step in getting a fresh start. Act in faith. You have to launch out into new territory. If you want to change anything in your life, you have to have some faith.
Jesus says this in Matthew 9:29 "According to your faith it will be done to you. " That is a very simple statement but it's very powerful. "According to your faith it will be done to you." That means we tend to get out of life what we expect. "According to your faith it will be done to you."
R – Refocus
I need to refocus my thoughts if I want to change my life. If I want to get going again, if I want a fresh start, I need to rethink the way that I think.
Rom 12:1-2- "I cannot Change What I cannot See"!
2 And do not be conformed to this world, but be transformed by the renewing of your mind, that you may prove what is that good and acceptable and perfect will of God.
NKJV
Proverbs 4:23 "Be careful how you think. Your life is shaped by your thoughts."
The way you think, determines the way you feel. And the way you feel determines the way you act. If you want to change your actions, just change the way you think and it will inevitably change the way you act. If you are depressed, discouraged and distressed it may be because you're thinking depressed, discouraged and distressing thoughts. That's your choice.
Attitude is a inward feeling or expression that has a outward action or expression. Or what goes inside will come outside!
Ps 1:1-3- The Word is Fruitful
Blessed is the man
Who walks not in the counsel of the ungodly, Nor stands in the path of sinners, Nor sits in the seat of the scornful;
2 But his delight is in the law of the LORD, And in His law he meditates day and night.
3 He shall be like a tree Planted by the rivers of water, That brings forth its fruit in its season, Whose leaf also shall not wither; And whatever he does shall prosper. NKJV
T – Trust GOD- "GET OUT OF THE BOAT"
Prov 3:5-7
5 Trust in the LORD with all your heart, and lean not on your own understanding;
6 In all your ways acknowledge Him; And He shall direct your paths.
7 Do not be wise in your own eyes;
NKJV
Conclusion: Will you have a fresh start in life?
· Stop making excuse
· Take an inventory of my life
· Act in faith
· Refocus my thoughts
· Trust God
Embracing the Change by Engaging or energizing myself by making bold moves and changes!