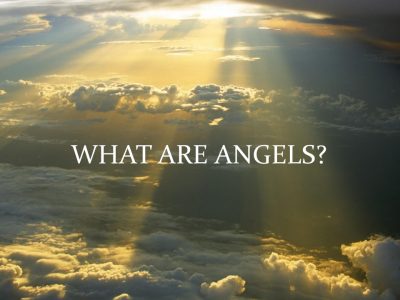 June 24, 2018
PART 2 
What are Angels – In Greek and Hebrew languages the word "Angel" means Messenger. A Messenger One sent by another.
Angels are a Company, Not a Race
Cannot Reproduce – Matthew 22:29-30 – 29 Jesus answered and said unto them, Ye do err, not knowing the scriptures, nor the power of God. 30 For in the resurrection they neither marry, nor are given in marriage, but are as the angels of God in heaven. KJV
Like Stars in Heaven – Job 38:4-7 – 4 Where wast thou when I laid the foundations of the earth? declare, if thou hast understanding. 5 Who hath laid the measures thereof, if thou knowest? or who hath stretched the line upon it? 6 Whereupon are the foundations thereof fastened? or who laid the corner stone thereof; 7 When the morning stars sang together, and all the sons of God shouted for joy? KJV
Angels Cannot Die – Luke 20:34-36 –34 And Jesus answering said unto them, The children of this world marry, and are given in marriage: 35 But they which shall be accounted worthy to obtain that world, and the resurrection from the dead, neither marry, nor are given in marriage: 36 Neither can they die any more: for they are equal unto the angels; and are the children of God, being the children of the resurrection. KJV
Angels are Spiritual Beings – Luke 24:37-39 – 37 But they were terrified and affrighted, and supposed that they had seen a spirit. 38 And he said unto them, Why are ye troubled? and why do thoughts arise in your hearts? 39 Behold my hands and my feet, that it is I myself: handle me, and see; for a spirit hath not flesh and bones, as ye see me have. KJV
We do not become Angels – Psalms 8:5-6 – 5 For thou hast made him a little lower than the angels, and hast crowned him with glory and honour. 6 Thou madest him to have dominion over the works of thy hands; thou hast put all things under his feet: KJV
Jesus Made a way – Hebrews 2:9 – 9 But we see Jesus, who was made a little lower than the angels, now crowned with glory and honor because he suffered death, so that by the grace of God he might taste death for everyone. NIV
Angels Job – Hebrews 1:14 – 14 Are they not all ministering spirits sent forth to minister for those who will inherit salvation?
Carry us to Heaven – Luke 16:22-31- 22 "The time came when the beggar died and the angels carried him to Abraham's side. The rich man also died and was buried.
Archangels- Gods General – Rev 12:7-9 – 7 And there was war in heaven: Michael and his angels fought against the dragon; and the dragon fought and his angels, 9 And the great dragon was cast out, that old serpent, called the Devil, and Satan, which deceiveth the whole world: he was cast out into the earth, and his angels were cast out with him. KJV
Gabriel stands before God – Luke 1:19 – 19 And the angel answering said unto him, I am Gabriel, that stand in the presence of God; and am sent to speak unto thee, and to shew thee these glad tidings. KJV
Lucifer, Angel of light- Isaiah 14:12-15 – 12 How art thou fallen from heaven, O Lucifer, son of the morning! how art thou cut down to the ground, which didst weaken the nations! 13 For thou hast said in thine heart, I will ascend into heaven, I will exalt my throne above the stars of God: I will sit also upon the mount of the congregation, in the sides of the north: 14 I will ascend above the heights of the clouds; I will be like the most High. 15 Yet thou shalt be brought down to hell, to the sides of the pit. KJV
Seraphim: Praise Angels- fill the earth with His Glory! Isaiah 6-1-7
Cherubim- Watchers over the word and earth. Daniel 4:23
They are Here – Hebrews 13:1-2 – 2 Do not forget to entertain strangers, for by so doing some people have entertained angels without knowing it. NIV
Around You – Psalms34:7 -7 The angel of the LORD encampeth round about them that fear him, and delivereth them. KJV
You can pray to the father – Matthew 26:53 – 53 Thinkest thou that I cannot now pray to my Father, and he shall presently give me more than twelve legions of angels? KJV
Old Testament- brought judgement – Genesis 19:11 – 11 And they smote the men that were at the door of the house with blindness, both small and great: so that they wearied themselves to find the door. Revelations 15:1 – And I saw another sign in heaven, great and marvelous, seven angels having the seven last plagues; for in them is filled up the wrath of God. KJV
Things Angels Do – The Bible Records 103 Appearances of Angels
1) Guard the tree of life- Genesis 3:24
2) Rescued Lot of Sodom- Genesis 19: 15,16
3) Ate dinner with Abraham- Genesis 18;1-8
4) Elijah was fed by a Angel- 1 Kings 19:5
5) Delivered Daniel from the Lions den- Daniel 6:22
Angels involved today –
1) When Adam Fell Angels where there: Gen. 3:23
2) When Abraham was chosen Angels where there   Genesis:18:1,2
3) When Jacob was becoming a nation Angels where There: Joshua 5 :15
4) When the scope of Gentile history was being planed Angels where there: Daniel 10:21
5) When the world needed a savior Angels Where there: Luke 1:30
6) When Key Changes needed to be understood they Angels where there. Peter to Cornelius.
7) When deep Revelation of Gods Purpose and Plan Angels where there! Revelation Chapters 1-22.
Open your Eyes – Colossians 1:9-19 9 For this cause we also, since the day we heard it, do not cease to pray for you, and to desire that ye might be filled with the knowledge of his will in all wisdom and spiritual understanding; 10 That ye might walk worthy of the Lord unto all pleasing, being fruitful in every good work, and increasing in the knowledge of God;  11 Strengthened with all might, according to his glorious power, unto all patience and longsuffering with joyfulness, 12 Giving thanks unto the Father, which hath made us meet to be partakers of the inheritance of the saints in light: 13 Who hath delivered us from the power of darkness, and hath translated us into the kingdom of his dear Son:  14 In whom we have redemption through his blood, even the forgiveness of sins: 15 Who is the image of the invisible God, the firstborn of every creature: 16 For by him were all things created, that are in heaven, and that are in earth, visible and invisible, whether they be thrones, or dominions, or principalities, or powers: all things were created by him, and for him: 17 And he is before all things, and by him all things consist 18 And he is the head of the body, the church: who is the beginning, the firstborn from the dead; that in all things he might have the preeminence. 19 For it pleased the Father that in him should all fulness dwell; KJV
Its Happening Now! – Rev 1:1-11 – 1 The Revelation of Jesus Christ, which God gave him to show unto his servants, (even) the things which must shortly come to pass: and he sent and signified (it) by his angel unto his servant John; 2 who bare witness of the word of God, and of the testimony of Jesus Christ, (even) of all things that he saw. 3 Blessed is he that readeth, and they that hear the words of the prophecy, and keep the things that are written therein: for the time is at hand. 4 John to the seven churches that are in Asia: Grace to you and peace, from him who is and who was and who is to come; and from the seven Spirits that are before his throne; 5 and from Jesus Christ, (who is) the faithful witness, the firstborn of the dead, and the ruler of the kings of the earth. Unto him that loveth us, and loosed us from our sins by his blood; 6 and he made us (to be) a kingdom, (to be) priests unto his God and Father; to him (be) the glory and the dominion for ever and ever. Amen. 7 Behold, he cometh with the clouds; and every eye shall see him, and they that pierced him; and all the tribes of the earth shall mourn over him. Even so, Amen. 8 I am the Alpha and the Omega, saith the Lord God, who is and who was and who is to come, the Almighty.  9 I John, your brother and partaker with you in tribulation and kingdom and patience (which are) in Jesus, was in the isle that is called Patmos, for the word of God and the testimony of Jesus. 10 I was in the Spirit on the Lord's day, and I heard behind me a great voice, as of a trumpet 11 saying, What thou seest, write in a book and send (it) to the seven churches: unto Ephesus, and unto Smyrna, and unto Pergamum, and unto Thyatira, and unto Sardis, and unto Philadelphia, and unto Laodicea. ASV